Gold Breaks Below $1,680 – Eyes on US Consumer Sentiment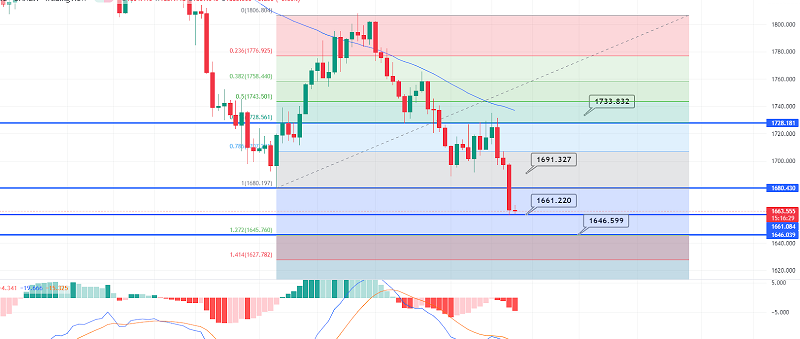 The gold market remains sensitive given the aggressive rhetoric from the Fed, with significant rate hikes on the horizon in the coming months. Higher-than-expected US inflation, along with an unexpected rebound in retail sales, convinced investors that higher rates should stay in place for a longer period, supporting the US dollar as well as Treasury yields.
GOLD prices approached their lowest in more than two years on Friday, heading for their worst week in two months, as the possibility of aggressive rate hikes by the U.S. Federal Reserve lifted bond yields and brought down the luster in bullion.
"The bearish momentum could force prices to drift lower until the FOMC (Federal Open Market Committee) meets next week, where a hawkish Fed is expected." Benchmark 10-year U.S. Treasury yields were at their highest since June, while the dollar was expected to rise against its rivals for the week. After the unexpected jump in consumer prices in August, investors are anticipating a rate hike of 75 basis points by the US central bank at its September 20-21 policy meeting.
XAU/USD
According to data released Thursday, U.S. retail sales surprisingly rose in August as lower gasoline costs supported spending, while U.S. jobless claims fell last week. "Everyone is expecting a 75 basis point increase, so the question is whether the Fed will continue to tighten aggressively as we approach 2023.
Gold Technical Outlook
The price of gold continues to fall sharply towards our extended target of 1655.00, sliding under persistent negative pressure which increases the likelihood of more expected declines in the future period, on its path towards new negative targets of 1644.00 and 1630.00.
Accordingly, we will continue to recommend a downtrend on an intraday and near-term basis, supported by the negative pressure produced by the EMA50, while keeping in mind that the continuation of the downtrend depends on price stabilization. below 1690.00.
Today's trading range should be between 1640.00 support and 1675.00 resistance.
Projected Trend Today: Bearish